Race Hardware is the official Ferodo Racing distributor for The Netherlands.
Some of the the in-house services we offer for Ferodo Racing products:

- Worldwide Distribution and Sales of Ferodo Racing products
- Engineering Development of custom and series applications based on Ferodo Racing products
- Analysing Ferodo Racing set-ups and provide tips and hints for maximum result
Race Hardware Expert Brake Customer support can be reached by phone or e-mail;
Phone: +31(0)36-5370689
e-Mail: info@rachardware.com
FERODO RACING BRAKE PADS
ISO16949 & 14001 Certified Production
All Ferodo Racing brake pads are manufactured to the highest international ISO quality standards at Federal Mogul's dedicated manufacturing facility in Italy.
Every brake pad has a total of 26 separate quality controls during its manufacture which guarantees a repeatable and consistent product within and between every batch.
Precision Engineering
All of the pad back-plates are manufactured from high tensile steel meaning minimum distortion when subjected to the high clamping forces common in motorsport use.
Pads are manufactured to maintain high tolerances on the pad and back-plate dimensions including : flatness , parallelism and overall thickness.
This results in a rapid and uniform transmission of pressure from the brake system to the pads.
Thermal Under-layer
Unlike many competitive products most Ferodo Racing brake pads incorporate a thermal under-layer between the backing-plate and the friction material.
This reduces the brake caliper's operating temperature by up to 80 deg C and significantly reduces the risk of boiling the brake fluid which causes a "spongy" feeling in the pedal.
Disc Friendly
Unlike many competitive products Ferodo pads are kind on brake discs. Ferodo pads are developed to optimize both the pad and disc life. Our philosophy is not to increase pad life with the casualty of excessive disc wear
High Controllability
All Ferodo Racing brake pads are engineered to perform with a relatively constant coefficient of friction (mu) across a wide range of temperatures , pressures and vehicle speeds.
This results in a consistent brake feel for the driver meaning that the braking torque is a linear response to pedal pressure.
Wide Range of Material choices and Fitments
Ferodo Racing has one of the widest range of pad shapes in the racing/performance brake pad market.
This fitment range is available with the necessary compound choice meaning that there is nearly always a solution to your needs.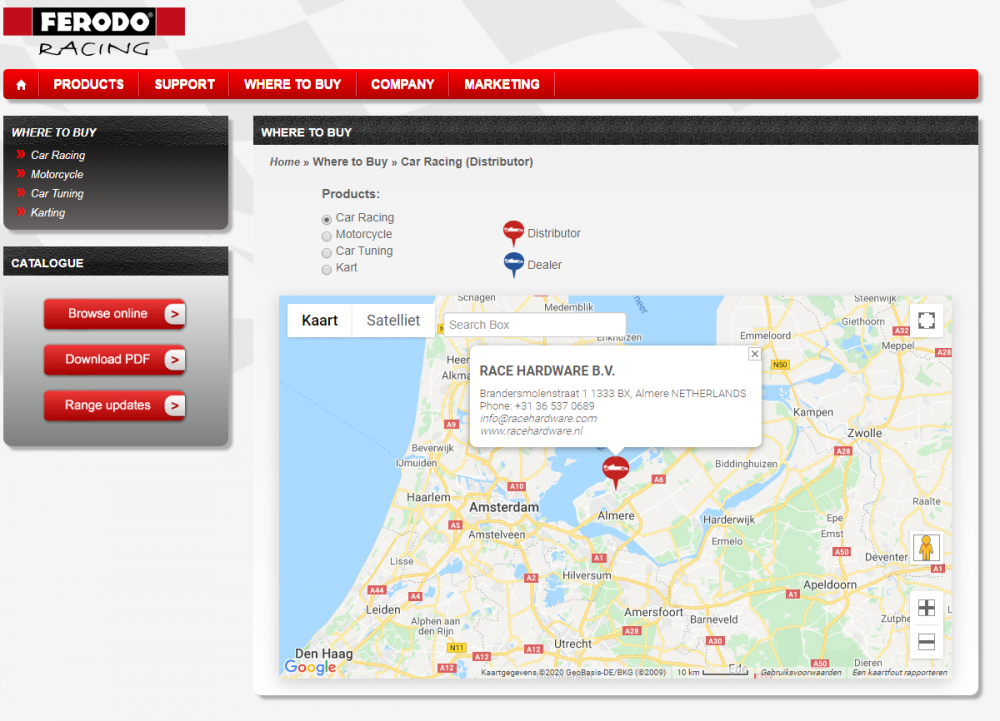 DSF050
FBA574
FBG001
FBX025
FBX050
FBX100
FBZ025
FBZ050
FBZ100
FBZ500
FCP1001H
FCP1001Z
FCP1011H
FCP1011R
FCP1012H
FCP1021H
FCP1049H
FCP1050H
FCP1052E
FCP1052H
FCP1052R
FCP1054H
FCP1056H
FCP105R
FCP1063H
FCP1063R
FCP1068H
FCP1073G
FCP1073H
FCP1073W
FCP1073Z
FCP1081H
FCP1081R
FCP1082H
FCP1082R
FCP1093H
FCP1094H
FCP1094R
FCP1094Z
FCP1101H
FCP1112H
FCP1113H
FCP1113R
FCP1133H
FCP1133R
FCP1134H
FCP1160H
FCP1162H
FCP116E
FCP116H
FCP116R
FCP116Z
FCP11H
FCP11R
FCP11W
FCP11Z
FCP1213H
FCP1224H
FCP1224R
FCP1280H
FCP1280R
FCP1280W
FCP1280X
FCP1281G
FCP1281H
FCP1281R
FCP1281W
FCP1281X
FCP1283R
FCP1285H
FCP1285R
FCP1288H
FCP1293H
FCP1294H
FCP1295H
FCP1298H
FCP1298R
FCP1298W
FCP1298Z
FCP1300H
FCP1301H
FCP1301R
FCP1307H
FCP1307R
FCP1307W
FCP1308H
FCP1308R
FCP1308W
FCP1312H
FCP1312Z
FCP1318H
FCP1318R
FCP1319H
FCP1323H
FCP1324H
FCP1327H
FCP1327R
FCP1333H
FCP1333R
FCP1333X
FCP1334G
FCP1334H
FCP1334R
FCP1334W
FCP1334X
FCP1334Z
FCP1348G
FCP1348H
FCP1348R
FCP1348W
FCP1348X
FCP1348Z
FCP1349H
FCP1349R
FCP1368H
FCP1368R
FCP1370H
FCP1370R
FCP1372H
FCP1372R
FCP1372X
FCP1376H
FCP1376R
FCP1378H
FCP1378R
FCP1382H
FCP1392H
FCP1394H
FCP1394R
FCP1399H
FCP1399R
FCP1399Z
FCP1419E
FCP1419H
FCP1419R
FCP1424H
FCP1430H
FCP1436H
FCP1437H
FCP1441H
FCP1444E
FCP1444H
FCP1444M
FCP1444R
FCP1444W
FCP1444X
FCP1456H
FCP1457H
FCP1459R
FCP1466H
FCP1466R
FCP1466Z
FCP1467H
FCP1467R
FCP1467Z
FCP1468H
FCP1468R
FCP1469H
FCP1469R
FCP1483H
FCP1483R
FCP1483W
FCP1483Z
FCP1491H
FCP1491W
FCP1499H
FCP1499R
FCP1499W
FCP1501R
FCP1520H
FCP1521H
FCP1528H
FCP1528R
FCP1540H
FCP1543H
FCP1543R
FCP1553H
FCP1553R
FCP1553W
FCP1553Z
FCP1560H
FCP1560R
FCP1560W
FCP1560Z
FCP1561H
FCP1561R
FCP1561W
FCP1561X
FCP1561Z
FCP1562C
FCP1562G
FCP1562H
FCP1562M
FCP1562R
FCP1562W
FCP1562X
FCP1562Z
FCP1563H
FCP1563W
FCP1563Z
FCP1568H
FCP1568R
FCP1573H
FCP1617R
FCP1617W
FCP1617Z
FCP1625H
FCP1626H
FCP1628H
FCP1628R
FCP1628W
FCP1628Z
FCP1629H
FCP1631H
FCP1636H
FCP1636R
FCP1639H
FCP1639W
FCP1639Z
FCP1640H
FCP1640W
FCP1640Z
FCP1641G
FCP1641H
FCP1641R
FCP1641W
FCP1641Z
FCP1655H
FCP1661H
FCP1664H
FCP1664R
FCP1664W
FCP1664X
FCP1664Z
FCP1667G
FCP1667H
FCP1667R
FCP1667W
FCP1667Z
FCP1667ZB
FCP1672H
FCP1672W
FCP1672Z
FCP1676H
FCP167C
FCP167H
FCP167R
FCP167W
FCP167Z
FCP1690H
FCP1693H
FCP1698H
FCP1706H
FCP1706W
FCP170C
FCP1717H
FCP1725H
FCP1725R
FCP1725W
FCP1725Z
FCP173H
FCP173R
FCP1747H
FCP1747W
FCP1751H
FCP1751R
FCP1765H
FCP1765W
FCP1765Z
FCP1773H
FCP1783R
FCP1786H
FCP1790H
FCP1790R
FCP1795H
FCP1795W
FCP1795Z
FCP1805H
FCP1806H
FCP1806W
FCP1807H
FCP1807Z
FCP1808H
FCP1858H
FCP1859H
FCP1862H
FCP1894H
FCP1917H
FCP1931H
FCP1931W
FCP1947H
FCP1954H
FCP1975H
FCP1975W
FCP1984H
FCP206H
FCP206R
FCP206Z
FCP22H
FCP253H
FCP256H
FCP256R
FCP276H
FCP276R
FCP296E
FCP296H
FCP296R
FCP296W
FCP29H
FCP29R
FCP2C
FCP2E
FCP2H
FCP2R
FCP2W
FCP2Z
FCP308H
FCP308R
FCP342C
FCP342H
FCP342R
FCP342Z
FCP351H
FCP351R
FCP351Z
FCP360H
FCP370C
FCP370H
FCP370R
FCP370W
FCP370Z
FCP372H
FCP372W
FCP385H
FCP392H
FCP392R
FCP392W
FCP393H
FCP393R
FCP399H
FCP399R
FCP39C
FCP3H
FCP3R
FCP3W
FCP4044H
FCP4044R
FCP4045H
FCP4050H
FCP4050W
FCP4064H
FCP406H
FCP406R
FCP406X
FCP406Z
FCP4080GB
FCP4080H
FCP4080W
FCP4081H
FCP408H
FCP408R
FCP408Z
FCP409H
FCP409R
FCP415H
FCP415R
FCP4168H
FCP4168R
FCP4168W
FCP4168X
FCP4168Z
FCP4172H
FCP4173H
FCP4187H
FCP4187W
FCP4191H
FCP419H
FCP4217H
FCP4217R
FCP4217Z
FCP4218H
FCP4218R
FCP4218Z
FCP4223H
FCP4249H
FCP4249W
FCP4249Z
FCP4262H
FCP4262W
FCP4308H
FCP4316H
FCP4316R
FCP4327H
FCP434H
FCP434R
FCP4353H
FCP4354H
FCP4379H
FCP4381H
FCP4394H
FCP4404H
FCP4412H
FCP4413H
FCP4416H
FCP441R
FCP4425G
FCP4425H
FCP4426H
FCP4426R
FCP4426Z
FCP4430H
FCP4433G
FCP4433H
FCP4433Z
FCP4434H
FCP4466H
FCP4467H
FCP4468H
FCP4489H
FCP4489Z
FCP448H
FCP448R
FCP448W
FCP451H
FCP451R
FCP451W
FCP451Z
FCP4587H
FCP4611G
FCP4611H
FCP4611W
FCP4611Z
FCP4612H
FCP4612W
FCP461H
FCP461R
FCP4663G
FCP4663H
FCP4663W
FCP4663Z
FCP4664GB
FCP4664H
FCP4664W
FCP4664ZB
FCP4665GB
FCP4665H
FCP4665W
FCP4665ZB
FCP4671H
FCP4697H
FCP4697W
FCP4711H
FCP4711W
FCP4711Z
FCP4712G
FCP4712H
FCP4712W
FCP4712Z
FCP4713H
FCP4713W
FCP472H
FCP4805H
FCP4805W
FCP4805Z
FCP4806H
FCP4806R
FCP4816H
FCP4816W
FCP4821H
FCP4830H
FCP4830W
FCP4830Z
FCP4835H
FCP4835Z
FCP483H
FCP483R
FCP483Z
FCP484H
FCP484R
FCP4872H
FCP4872W
FCP4872Z
FCP4873H
FCP487H
FCP487R
FCP4955H
FCP4955W
FCP4972H
FCP5030H
FCP5030W
FCP5037H
FCP5037R
FCP5086H
FCP5086W
FCP5099GB
FCP5099H
FCP5108H
FCP5108W
FCP5130H
FCP519R
FCP519W
FCP524M
FCP524R
FCP527H
FCP527R
FCP527X
FCP535C
FCP535H
FCP535R
FCP541H
FCP541R
FCP541W
FCP541Z
FCP546H
FCP546R
FCP558C
FCP558H
FCP558R
FCP560H
FCP560M
FCP560R
FCP560W
FCP565H
FCP565R
FCP565W
FCP565X
FCP578H
FCP578R
FCP578W
FCP584H
FCP584R
FCP586H
FCP586R
FCP590H
FCP590R
FCP590W
FCP596H
FCP596R
FCP598H
FCP598R
FCP600H
FCP602H
FCP602R
FCP613H
FCP613R
FCP617H
FCP638H
FCP646H
FCP646W
FCP647H
FCP653W
FCP660H
FCP660R
FCP660W
FCP685H
FCP685R
FCP691H
FCP721H
FCP721R
FCP721W
FCP725H
FCP725R
FCP725W
FCP726H
FCP726R
FCP72H
FCP72R
FCP732H
FCP732R
FCP748H
FCP761H
FCP765E
FCP765H
FCP765R
FCP765W
FCP765X
FCP765Z
FCP766H
FCP766R
FCP767H
FCP774H
FCP774R
FCP775H
FCP775R
FCP776H
FCP776R
FCP776Z
FCP777H
FCP779E
FCP779H
FCP779R
FCP779W
FCP789H
FCP789R
FCP790H
FCP790R
FCP809C
FCP809H
FCP809M
FCP809R
FCP809W
FCP809X
FCP809Z
FCP810C
FCP810H
FCP810R
FCP810W
FCP810Z
FCP815C
FCP815H
FCP815R
FCP815W
FCP817H
FCP817R
FCP823R
FCP823W
FCP825C
FCP825H
FCP825R
FCP825W
FCP825Z
FCP832H
FCP832R
FCP840C
FCP840R
FCP845C
FCP845H
FCP845R
FCP845W
FCP850H
FCP850R
FCP850W
FCP850Z
FCP856H
FCP856R
FCP857H
FCP857R
FCP857W
FCP859H
FCP859R
FCP867H
FCP876H
FCP876R
FCP878H
FCP878R
FCP881H
FCP891H
FCP891M
FCP891R
FCP891W
FCP904H
FCP905H
FCP905R
FCP925H
FCP925R
FCP93H
FCP93R
FCP948H
FCP948R
FCP956H
FCP956R
FCP956W
FCP96H
FCP96R
FCP986H
FCP986R
FCP986W
FCP986X
FCP986Z
FCP995H
FCP997H
FCP997R
FCP9H
FCP9R
FDS1011
FDS1040
FDS1049
FDS1050
FDS1052
FDS1056
FDS1063
FDS1067
FDS1068
FDS1072
FDS1073
FDS1081
FDS1082
FDS1083
FDS11
FDS1101
FDS1109
FDS1112
FDS1113
FDS1134
FDS1160
FDS1162
FDS1224
FDS1281
FDS1285
FDS1288
FDS1289
FDS1293
FDS1294
FDS1295
FDS1300
FDS1301
FDS1307
FDS1308
FDS1312
FDS1318
FDS1323
FDS1324
FDS1327
FDS1333
FDS1334
FDS1348
FDS1349
FDS1370
FDS1372
FDS1376
FDS1378
FDS1379
FDS1398
FDS1399
FDS1419
FDS1435
FDS1438
FDS1444
FDS1463
FDS1466
FDS1467
FDS1468
FDS1469
FDS1499
FDS1528
FDS1543
FDS1560
FDS1561
FDS1562
FDS1568
FDS1573
FDS1617
FDS1625
FDS1628
FDS1629
FDS1636
FDS1639
FDS1641
FDS1664
FDS1667
FDS167
FDS1672
FDS1676
FDS1706
FDS1725
FDS173
FDS1747
FDS1751
FDS1765
FDS1773
FDS1795
FDS1805
FDS1806
FDS1807
FDS1808
FDS1862
FDS1968
FDS2
FDS212
FDS256
FDS276
FDS296
FDS3
FDS308
FDS370
FDS392
FDS393
FDS399
FDS4044
FDS4050
FDS406
FDS408
FDS4168
FDS4187
FDS4212
FDS4212-8123
FDS4217
FDS4218
FDS4223
FDS4316
FDS434
FDS4353
FDS4381
FDS4394
FDS4425
FDS4433
FDS4434
FDS4489
FDS451
FDS4587
FDS4611
FDS4663
FDS4697
FDS4712
FDS4806
FDS483
FDS4830
FDS5023
FDS541
FDS558
FDS560
FDS565
FDS578
FDS584
FDS586
FDS596
FDS598
FDS600
FDS603
FDS604
FDS610
FDS613
FDS617
FDS653
FDS654
FDS660
FDS685
FDS691
FDS721
FDS725
FDS726
FDS729
FDS732
FDS745
FDS749
FDS765
FDS766
FDS767
FDS774
FDS775
FDS776
FDS777
FDS779
FDS789
FDS790
FDS815
FDS823
FDS825
FDS832
FDS840
FDS845
FDS850
FDS856
FDS857
FDS867
FDS876
FDS891
FDS9
FDS905
FDS925
FDS948
FDS956
FDS96
FDS986
FDS995
FDS998
FDSE1021
FDSE1456
FDSE1457
FDSE1553
FDSE1698
FDSE1984
FDSE4229
FDSE4230
FDSE6000
FDSE6001
FDSE6002
FDSE6003
FDSE6004
FDSE6005
FDSE6006
FDSE6013
FDSE6020
FDSE6021
FDSE6022
FDSR1077
FDSR201
FDSR216
FDSR218
FDSR219
FDSR3003
FDSR3018
FDSR3028
FDSR3039
FDSR3067
FDSR3069
FDSR3075
FDSR3081
FDSR3082
FDSR3083
FDSR3084
FDSR3085
FDSR3098
FDSR3099
FDSR3106
FDSR3109
FDSR3114
FDSR3134
FDSR3135
FDSR3136
FDSR3141
FDSR3142
FDSR3144
FDSR3147
FDSR501
FDSR502
FRF340
FRP101R
FRP101Z
FRP1058R
FRP1060R
FRP1060Z
FRP1061R
FRP1064R
FRP1077E
FRP1077G
FRP1077H
FRP1077R
FRP1077W
FRP1077Z
FRP1078GB
FRP1078R
FRP1078W
FRP1078WB
FRP1078X
FRP1078Z
FRP1078ZB
FRP1079C
FRP1079H
FRP1079R
FRP201C
FRP201H
FRP201R
FRP201W
FRP201X
FRP201Z
FRP202C
FRP202H
FRP202R
FRP203H
FRP203R
FRP203Z
FRP212H
FRP212R
FRP212W
FRP212X
FRP212Z
FRP216C
FRP216G
FRP216H
FRP216M
FRP216R
FRP216W
FRP216X
FRP216Z
FRP217R
FRP217W
FRP217Z
FRP218C
FRP218H
FRP218M
FRP218R
FRP218W
FRP219C
FRP219G
FRP219H
FRP219M
FRP219R
FRP219W
FRP219Z
FRP3000H
FRP3000R
FRP3000W
FRP3000X
FRP3001C
FRP3001H
FRP3001R
FRP3003H
FRP3003R
FRP3003W
FRP3003X
FRP3003Z
FRP3003ZB
FRP3004R
FRP3006H
FRP3007H
FRP3007R
FRP3007Z
FRP3009R
FRP3012R
FRP3012W
FRP3014GB
FRP3014H
FRP3014R
FRP3014W
FRP3014Z
FRP3014ZB
FRP3015W
FRP3018GB
FRP3018H
FRP3018M
FRP3018R
FRP3018W
FRP3018WB
FRP3018Z
FRP3020M
FRP3020R
FRP3021C
FRP3021E
FRP3022R
FRP3022W
FRP3022X
FRP3023M
FRP3023R
FRP3024R
FRP3024W
FRP3024X
FRP3024Z
FRP3025R
FRP3026R
FRP3027H
FRP3027R
FRP3028H
FRP3028R
FRP3028W
FRP3028Z
FRP3029H
FRP3029M
FRP3029R
FRP3029W
FRP3029Z
FRP302H
FRP302R
FRP302W
FRP302X
FRP302Z
FRP302ZB
FRP3030R
FRP3030Z
FRP3031GB
FRP3031R
FRP3031W
FRP3031Z
FRP3031ZB
FRP3032R
FRP3032X
FRP3032Z
FRP3033R
FRP3034R
FRP3035R
FRP3037W
FRP3039E
FRP3039GB
FRP3039H
FRP3039R
FRP3039W
FRP3039X
FRP3039ZB
FRP3040Z
FRP3042R
FRP3042W
FRP3043R
FRP3043Z
FRP3044M
FRP3044R
FRP3044Z
FRP3045R
FRP3046W
FRP3050E
FRP3050H
FRP3050R
FRP3050W
FRP3051H
FRP3051R
FRP3051W
FRP3051X
FRP3053R
FRP3053W
FRP3054G
FRP3054H
FRP3054R
FRP3054W
FRP3054X
FRP3054Z
FRP3055GB
FRP3055R
FRP3055W
FRP3055X
FRP3055Z
FRP3055ZB
FRP3056C
FRP3056H
FRP3056R
FRP3056Z
FRP3057H
FRP3057R
FRP3057W
FRP3057Z
FRP3058H
FRP3058R
FRP3058W
FRP3058Z
FRP3059R
FRP3060W
FRP3061R
FRP3061W
FRP3061X
FRP3061Z
FRP3062W
FRP3067G
FRP3067H
FRP3067R
FRP3067W
FRP3067X
FRP3067Z
FRP3069H
FRP3069R
FRP3069W
FRP3069Z
FRP3070R
FRP3070W
FRP3070X
FRP3070Z
FRP3071C
FRP3071H
FRP3071R
FRP3071W
FRP3071Z
FRP3073R
FRP3074R
FRP3075H
FRP3075W
FRP3075ZB
FRP3076H
FRP3076R
FRP3076Z
FRP3077H
FRP3077R
FRP3077W
FRP3077Z
FRP3077ZB
FRP3078H
FRP3078R
FRP3078Z
FRP3080E
FRP3080M
FRP3080R
FRP3080W
FRP3080X
FRP3080Z
FRP3081H
FRP3081R
FRP3081W
FRP3081X
FRP3081Z
FRP3082H
FRP3082R
FRP3082W
FRP3082Z
FRP3083G
FRP3083H
FRP3083R
FRP3083W
FRP3083Z
FRP3084G
FRP3084H
FRP3084R
FRP3084W
FRP3084X
FRP3084Z
FRP3084ZB
FRP3085H
FRP3085R
FRP3085W
FRP3085Z
FRP3086R
FRP3086X
FRP3087G
FRP3087R
FRP3087W
FRP3087X
FRP3087Z
FRP3088R
FRP3088X
FRP3088Z
FRP3089X
FRP308C
FRP308G
FRP308H
FRP308R
FRP308W
FRP308X
FRP308Z
FRP3091R
FRP3092C
FRP3092W
FRP3092Z
FRP3094H
FRP3094W
FRP3095H
FRP3095W
FRP3095X
FRP3095Z
FRP3095ZB
FRP3096H
FRP3096W
FRP3096X
FRP3096Z
FRP3096ZB
FRP3097G
FRP3097H
FRP3097R
FRP3097W
FRP3097Z
FRP3098H
FRP3098R
FRP3098W
FRP3098Z
FRP3099H
FRP3099R
FRP3099W
FRP3099X
FRP3099Z
FRP3100H
FRP3100R
FRP3101Z
FRP3102W
FRP3102X
FRP3102Z
FRP3103G
FRP3103R
FRP3103W
FRP3103Z
FRP3103ZB
FRP3104C
FRP3104H
FRP3104R
FRP3104Z
FRP3105H
FRP3105R
FRP3106GB
FRP3106H
FRP3106R
FRP3106W
FRP3106WB
FRP3106Z
FRP3107H
FRP3107R
FRP3108H
FRP3108Z
FRP3109H
FRP3110GB
FRP3110R
FRP3110W
FRP3110WB
FRP3110X
FRP3110Z
FRP3110ZB
FRP3112X
FRP3112Z
FRP3113H
FRP3113R
FRP3113Z
FRP3114H
FRP3114R
FRP3114W
FRP3114Z
FRP3115H
FRP3115R
FRP3115W
FRP3116G
FRP3116H
FRP3116R
FRP3116W
FRP3116X
FRP3116Z
FRP3117R
FRP3118W
FRP3119Z
FRP3120H
FRP3121H
FRP3121Z
FRP3122H
FRP3122W
FRP3123Z
FRP3123ZB
FRP3126H
FRP3127H
FRP3128GB
FRP3128Z
FRP3128ZB
FRP3129H
FRP3130H
FRP3130W
FRP3133GB
FRP3133H
FRP3133W
FRP3133Z
FRP3134H
FRP3134R
FRP3134Z
FRP3135H
FRP3135R
FRP3135Z
FRP3136H
FRP3136R
FRP3137H
FRP3137W
FRP3137Z
FRP3138ZB
FRP3139ZB
FRP3140G
FRP3140R
FRP3140Z
FRP3141H
FRP3142H
FRP3143H
FRP3143W
FRP3143ZB
FRP3144GB
FRP3144H
FRP3144R
FRP3144WB
FRP3144ZB
FRP3145R
FRP3145WB
FRP3145ZB
FRP3146R
FRP3147H
FRP3147W
FRP3148H
FRP3148R
FRP3149H
FRP3149R
FRP3150GB
FRP3150ZB
FRP3151GB
FRP3152GB
FRP3153GB
FRP3154W
FRP3155GB
FRP5001R
FRP5001W
FRP5002R
FRP5002W
FRP501H
FRP501R
FRP501W
FRP501X
FRP501Z
FRP502C
FRP502E
FRP502H
FRP502R
FRP502W
FRP503H
FRP503M
FRP503R
FRP503W
FRP503X
FRP504G
FRP504H
FRP504R
FRP504W
FRP504Z
FRP506C
FRP506R
FRP506W
FSF050